What Are Bitcoins?
Bitcoins are a cryptocurrency that was introduced in 2009 by a developer, Satoshi Nakamoto (not his real name).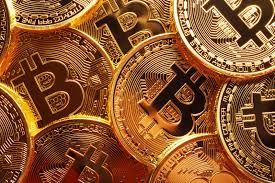 You can buy and sell bitcoins through exchanges, brokers or individuals or use them like
PayPal
as payment for goods and services on a growing number of websites, online retailers, and retail stores that accept bitcoin payments. You can send funds to friends and family in most countries around the world without incurring high fees and exchange rates. You can also speculate on bitcoin prices and trade bitcoins in the hope of making some extra money!
Bitcoin Mining
Bitcoins are created by a process called mining. Participants record and verify payments in exchange for transaction fees and newly minted bitcoins. Individuals and groups who are willing to support the network by allocating computer processing power are rewarded with bitcoins. Bitcoins can not be duplicated or forged. All transactions are publicly recorded and verified through the network. This record is called a blockchain and is one of the features that helps keep the system free of fraud and abuse.
How Bitcoin Works
Bitcoin is a decentralized system that is not owned by any one person or organization. Unlike most currencies, whose price is controlled by a central authority, bitcoin is priced on the open market and the system is transparent. The amount of bitcoins in circulation is strictly controlled by an algorithm. This means that new bitcoins cannot be created at the whim of central bankers and this virtual currency cannot be incorporated into any country's monetary policy.
Why Use Bitcoins
Bitcoins are a digital currency that was developed to facilitate global commerce in today's modern age. Bitcoins have become the first global currency that has the same value anywhere in the world that bitcoins are authorized. One of the key features of bitcoin is that transactions do not require a third party to sign off, like a bank or credit card company . The low fees associated with using bitcoins is a huge benefit to the economy and makes them more attractive than using credit cards but with the same ease of use.
Using bitcoins gives you greater protection online than using credit cards or other financial tools. Your level of privacy is controlled by you and it is much more difficult for the criminal element to steal your identity.
How To Get Started Using Bitcoins
In order to start using bitcoins digital currency you will need to obtain a digital wallet.
Wallets are where you store, send or receive bitcoins, your unique digital wallet ID is a string of letters and numbers that look like a long password
Wallets can be held on different devices.
A desk top wallet stores bitcoins on your PC. This will require you to install software that will enable you to download and update the blockchain. This can take up valuable storage space on your computer, but it does allow you to control the level of security on your account.
Web wallets allow you to store your bitcoins in another location for safety and are easy to use for transactions. Web wallets hold the blockchain transactions so you don't have to, therefore there is no need to install the additional software. This option is less private so it is important to use services with security features to protect your account.
Mobile wallets enable you to make transactions on the go. Easy and convenient, you can exchange bitcoins easily or pay for goods in stores by scanning a QR code or using NFC "tap to pay". Again these wallets are less secure and it is important that you install authentication tools to protect your account.
Bitcoin transactions per day number approximately 80,000
Digital currencies are not backed by the government, have volatile exchange rates, and are targeted by hackers and scammers.
*** Bitcoin based deposits, unlike bank accounts are not federally insured.***
Bitcoin Latest News
South Korea, one of the world's largest crypto markets just announced its plans to ban cryptocurrency trading causing the prices of four major cryptocurrencies to fall. Bitcoin, Ripple, LiteCoin and Ethereum all took a hit.
Interest in Bitcoin and other cryptocurrencies is booming. Bitcoin keeps soaring higher recently breaking the US$8000 barrier.
According to CoinMarketCap there are 16,620,550 bitcoins in circulation at the moment and is expected to rise to 21 million bitcoins by the year 2140
As of October 2017 the value of a single bitcoin has risen to $5767.48 USD.
Bitcoin value tops $1000 US for first time since 2013
Simon Fraser University in British Columbia Canada is now accepting bitcoins at all of its bookstores, for buying textbooks.
More and more businesses are accepting bitcoin as a method of payment for goods and services. From gas stations in Malaysia to a popular mail order company in the US, more and more businesses are embracing the world of cryptocurrency. Bitcoin features incredibly low fees and commissions making it a cheaper payment alternative to the high interest credit card companies and banks. Lower costs allows companies to pass on those savings to the consumer in the form of lower prices.
Six new bitcoin machines arrive in Toronto Canada. Despite high profile security breaches and fluctuations in value it appears that this digital currency is the future of money.
The Metro Toronto Convention Center is preparing to host a three day event to discuss strategies that will help mold the future of digital currencies. Bitcoin ATMs have been installed around the city and an increasing number of vendors and merchants are accepting bitcoins for everyday purchases. Prepaid bitcoin cards are now available as a way of purchasing bitcoins for oneself, or as a gift, much like the gift cards that are already widely used to make purchases in restaurants and stores.
The Bank of Montreal has become the first major Canadian bank to endorse bitcoin transactions provided that the virtual currency becomes more clearly regulated. If bitcoins become a reliable medium of exchange, then at some point down the road the bank would be open to conduct business with bitcoins.
The apparent collapse of Mt. Gox, one of the most well known exchanges for Bitcoin virtual currency has left investors nervous and wondering about the future of bitcoins. However this appears to be an isolated case and other bitcoin exchanges and companies are doing fine. The value of the bitcoin fell below $500 USD from a high of $1200 USD. Some might see this as a great opportunity to invest, while others will run for the hills!