Ing Banking
The ING Group is a Dutch multinational banking and financial services corporation with its headquarters in Amsterdam. Known as ING Direct in North America, the largest online-only bank, they were a pioneer in online banking. ING Direct offers core banking functions enabling ING customers access to their bank accounts over the internet. The "electric orange," as the online service is known, gives ING customers the ability to administrate their accounts with ease.
Qualifying customers can control their checking and savings accounts, Mastercard accounts, CD investments, home equity loans, and more through the ING interface.
In addition, ING DIRECT gives its customers a low-fee, hands-on approach to internet banking. ING checking accounts provide an interest rate that is higher than average with an option for paperless statements. "Electric Orange" savings account provide higher interest rates than the national average while still allowing for easy transfers and money management. All checking and savings accounts that are eligible for internet banking are also FDIC insured for up to $250,000.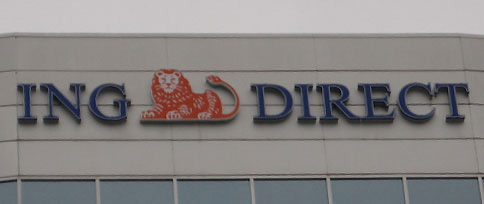 ING DIRECT also allows for lower customer fees and better interest rates thanks to its low administration costs. Without the need for a brick and mortar bank branch, accounts opened and administered online through ING DIRECT incur less cost to the bank than conventional bank accounts. ING passes these savings along to the consumer.
ING DIRECT provides home mortgages via its online service. Because of ING DIRECT's lower administrative costs and the inherent advantages of online banking, ING DIRECT mortgage customers feel the benefits. Home mortgages acquired through the service provide better interest rates and faster service than those offered through typical brick and mortar locations.
ING has also recently acquired the ShareBuilder investment service. ShareBuilder allows for ING DIRECT customers to invest their deposits into market investments, including stocks, mutual funds, treasury bonds, and more. ShareBuilder offers time-based investment plans for reduced brokerage fees, allowing for savvy investors to invest at a lower cost than otherwise charged for individual trades.
Latest News from Ing Bank
ING Direct USA is now owned by Capital One. Moving forward, Capital One's direct banking subsidiary will be known as Voya Financial
ING Direct Canada is now owned by Scotiabank. Moving forward, Scotiabank's direct banking subsidiary will be known as Tangerine
New Mobile Banking feature Cheque-In™ allows you to deposit cheques using your iPhone® from anywhere. Text "mobile" to 728464 from your smartphone and download Ing Bank of Canada's Mobile Banking App.
Lil' Savers™ a fun and interactive online world is a new educational tool to teach kids about the value of money.