SunTrust Business Online Banking
SunTrust Banks Inc is an American bank holding company that was founded in 1811. It has it's company headquarters in Atlanta, GA USA
Suntrust Online Business Banking
SunTrust Bank, the largest susidiary of SunTrust Banks, is one of the largest and most well known banking establishments in the world, and it is no wonder, as they now have total assets of $175 billion. They are a company that provides deposit, credit, trust and investment services to a broad range of retail, business and institutional clients. They operate nearly 2,000 different branches and 2,533 ATMs in a variety of states.
SunTrust Online Business Banking Features
When it comes to SunTrust online banking they offer a number of different features, including the SunTrust Online Cash Manager, which offers all the functionality of regular Internet banking, but also allows you other options as well, including: you can access both your business and personal accounts under one profile, pay your bills online from the convenience of your own home, view deposit account statements and account analysis statements online, and identify and curb potential fraud on your account by accessing the Fraud Inspector. This Fraud Inspector feature is one that is very unique and something that no other banking institution offers in the same exact way.
The SunTrust small business online Cash Manager is really fantastic, for one because it is available in three different solutions for businesses, so it can be best suited to any particular business and their needs. There is the Online Cash Manager, Online Cash Manager Plus, and the Online Cash Manager Premium.
Although the specifics of each differ, the basics remain the same, and this includes the following offered features: access to your personal and business accounts, transaction reporting, bill payment services, the ability to set up additional user IDs for others in your company, and more.
Sign up for online check deposit saves you the trip to the bank and allows you immediate access to receivables and improves cash flow.
SunTrust Business Banking
Although the SunTrust financial organization focuses largely on personal accounts, they do even more for small business owners with SunTrust business banking. They understand that it can be incredibly difficult to find the time that you need to run a business, and this is why they have gone about assembling a variety of different resources, all free of charge to you the consumer, and which are aimed directly at helping you as much as possible with the important aspects of your business.
For instance they offer an online investment plan center, which offers tools that are designed to help you and your employees to determine the best way to manage different investments. You can go through the entire process online on your own or use the customer service options that are available if you want someone to help you through it. Then there is also the option of business tools and calculators,
SunTrust Mobile Banking
Suntrust Mobile Banking offers you convenience and security from anywhere at anytime. You can check your account balances, pay your bills, transfer funds or find the nearest SunTrust branch.
Advantages of SunTrust Banking Online
There are many different advantages that you gain from using the SunTrust Bank internet banking or any other institution's internet banking for that matter, one of the most major being convenience.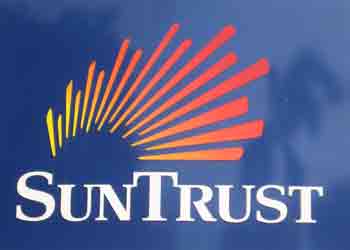 Rather than having to try to fit your banking duties into an already hectic day, you can just wait until you have time, and do it from the comfort of your own home. Even if the regular banking hours are over, you are still able to complete banking tasks online, and so you never have to worry about rushing to fit it in, which is great.
As well, you are able to be more one-on-one with your finances, as when you go into the bank you are basically just letting the teller do all the work, whereas with online banking you are getting to see all the transactions which are being and have been made, as they are noted specifically and shown on your screen, and as well you can monitor your money, and it is easier to recognize if there are ever any discrepancies.
Disadvantages of SunTrust Banking Online
There are certain disadvantages as well that you will want to be aware of, although not many, one of the most major being that it is harder to get questions answered right away and also that making deposits is harder, unless you have branches available that you can go to for this purpose.
SunTrust Careers Banking Jobs
Looking for a career in the banking industry? Follow the link below to find current job opportunities at SunTrust bank. Search for a job with SunTrust bank and begin your finance career today!
Career opportunities with SunTrust bank - SunTrust Bank Jobs
SunTrust Online Banking Resources